Martina Lundberg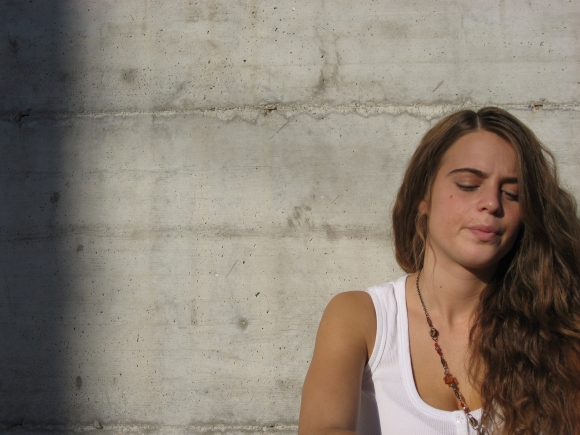 Från: Luleå
Martina Lundbergs musik stärker och tröstar Martina Lundberg, 23, litar på musikens kraft. "Det finns inget tillstånd som musiken inte har kunnat möta mig i", säger hon.
Martina Lundberg är fotbollstjejen med det stora modeintresset, uppvuxen i den lilla byn Klöverträsk utanför Luleå. Hon kan äta hur mycket godis som helst och slutar aldrig dansa när hon väl har börjat.
Under den levnadsglada ytan har hon en alldeles ovanlig musikalisk gåva. Med sina låtar och sin röst, sitt piano och sin gitarr, vill hon trösta och stärka.
– Jag hoppas att min musik ska hjälpa mig och andra människor att nå rum hos oss själva som vi inte visste fanns. För mig är skapandet en resa i sig. Jag vill nå djupare, längre.
Martina Lundberg skapar harmonisk och enkel pop med drag av jazz och country. Hennes röst har ett djupt lugn som utan antydan till ansträngning uttrycker starka känslor. Texterna förmedlar tro, hopp, vilja, tvivel. Och kärlek.
– Kärleken är alltid mer än du hittills har upplevt, säger Martina Lundberg.
Musikaliska förebilder är Sade, "hon är så enkel i sitt uttryck", och Tom Waits:
– Hans förmåga att mixa det allra mörkaste med det allra sköraste och vackra är en fantastisk konst.
Martina Lundbergs trogna lyssnarskara har vuxit under intima spelningar i Luleåtrakten. Hon har länge tröstat brustna hjärtan på MySpace, med låten Cold Hearts: "And it's so sad / how we had to part / and it's so sad / these cold, cold hearts". På debutalbumet betyder titelspåret, The Willow, särskilt mycket.
– Jag är jättestolt över att ha skrivit den. För mig handlar den om modet att möta både det ljusa och mörka i livet. Att kunna omfamna dem båda, säger Martina Lundberg.
Martina Lundberg's music strengthens and comforts Martina Lundberg, 23, has faith in the power of music. "I've been in no condition in which music hasn't been able to reach me", she says
Martina Lundberg is the soccer girl with the great fashion interest, raised in the small village of Klöverträsk outside of Luleå. She can eat any amount of candy and never stops dancing once she's begun.
Beneath the carefree surface she has an exceptional musical talent. With her songs and her voice, her piano and her guitar, she wants to give comfort and strength.
– I hope my music will help me and other peope reach rooms in ourselves that we didn't know existed. For me being creative is a journey in itself. I want to reach deeper, further.
Martina Lundberg creates harmonic and simple pop with strokes of jazz and country. Her voice has a deep serenity that, without any sense of strain, manages to express strong feelings. Her lyrics express faith, hope, will, doubt. And love.
– Love is always more than what you've experienced so far, Martina says.
Her musical influences are Sade, "she's so straight-forward in her expression", and Tom Waits:
– His ability to mix the very darkest with the very most fragile and beautiful is an amazing artform.
Martina Lundberg's faithful audience has grown through intimate performances in Luleå. She has long comforted broken hearts on MySpace with her song "Cold Hearts": "And it's so sad / how we had to part / and it's so sad / these cold, cold hearts". On her debut album the title track, The Willow, has a special meaning to her.
– I'm so proud to have written it. To me it's about the courage to face both the light and dark aspects of life. To be able to embrace them both, says Martina Lundberg.
Releaser
Snö
The Sound of Luleå vol. 2
The Willow
Vi Är Luleå Hockey